VIP – European champion in the production of organic apples
VIP, the Val Venosta Co-operatives Association, is the European leader in the production and processing of organic apples. An insight into this both tradition-rich and very innovative apple region.
Val Venosta is an elongated valley in the west of South Tyrol in Italy at the border to Austria. High mountain peaks surround the 80-km-long valley at the heart of the Alps stretching from Merano to Resia Pass. Agriculture has a long tradition here, as some agricultural businesses have been run by the same family for one hundred years.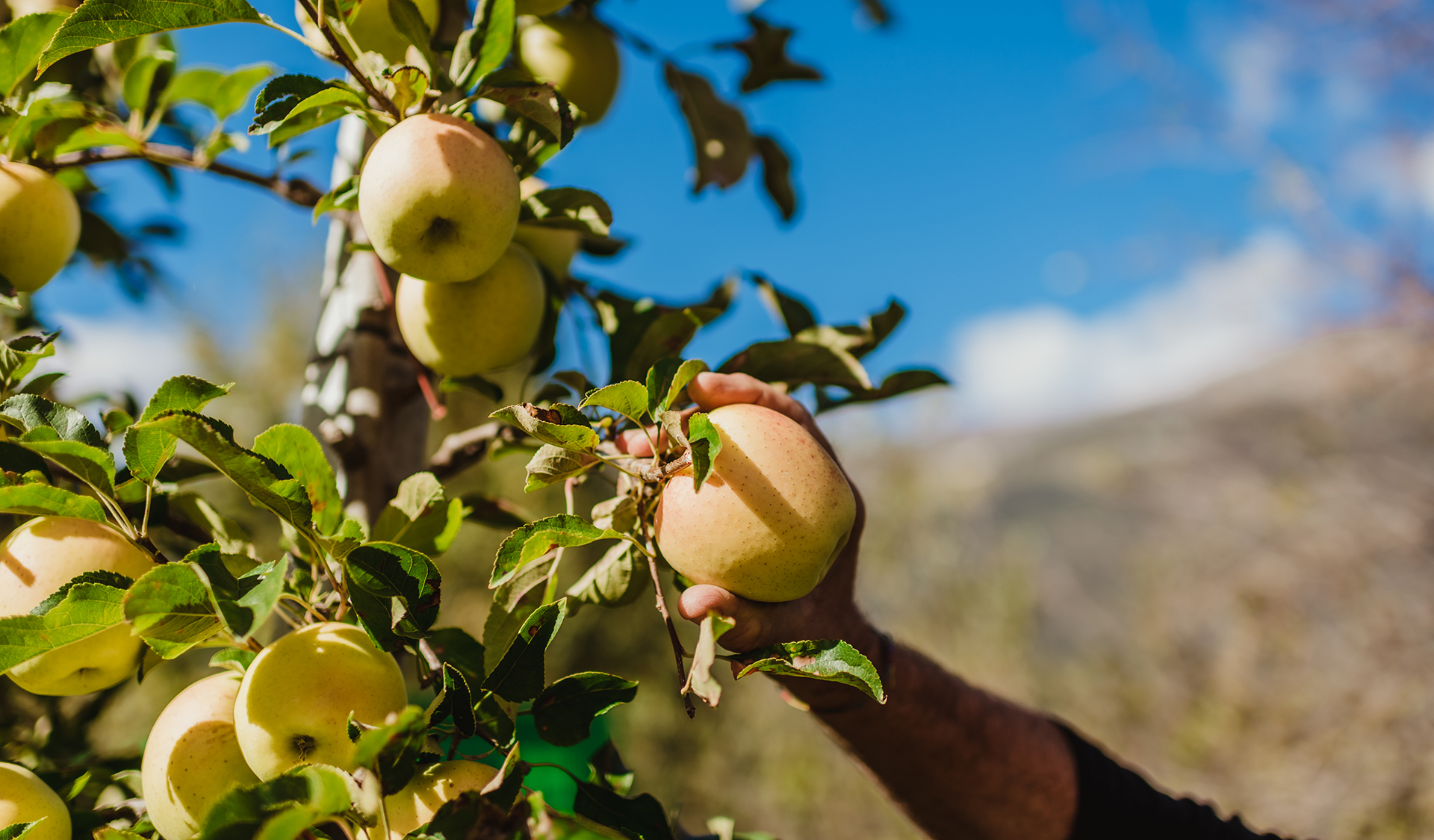 Val Venosta has become one of the leading production areas of organic apples in Europe in terms of both quantity and product quality.
Small agricultural businesses with a long tradition
VIP's members are mainly small agricultural businesses with an average of three hectares of apple orchards. This love for small business structures also results from the awareness that every apple needs personal devotion to become a healthy and natural product. In addition to the producers' personal connection to their apple trees, VIP places great importance on strengthening the relationship between producers and consumers. This is why VIP initiated the BioGraphy project (https://www.vip.coop/biography) five years ago to allow the consumer to meet Val Venosta's organic apple producers.
VIP's about 250 organic producers do not only comply with the European regulations for the production of organic apples, but also with the ones of the "Bioland" or "Demeter" associations. VIP's annual organic harvest amounts to more than 25,000 tons of apples of different varieties with increasing tendency.
Alpine apple region with ideal climate
Val Venosta is Europe's highest homogenous apple production area with cultivation areas between 500 and 1,000 meters above sea level. Many days of sunshine, little precipitation and the great range of temperature between day and night offer best climatic conditions for the production of organic apples.
Natural agriculture by conviction
Val Venosta's producers have always known that agriculture can only succeed in harmony with nature. The first pioneers in Val Venosta grew their apples according to organic production methods as early as in the early 1980s. Val Venosta's apple producers have made responsible use of natural resources for decades. This is why half of the apple orchards in the Apple Paradise are irrigated with water-saving drip irrigation. Live and let live – this is the motto of Val Venosta's producers to promote biodiversity. They thus create additional habitats for plants, insects, birds and small animals with the help of hedges, bushes, insect hotels and nesting places in their orchards.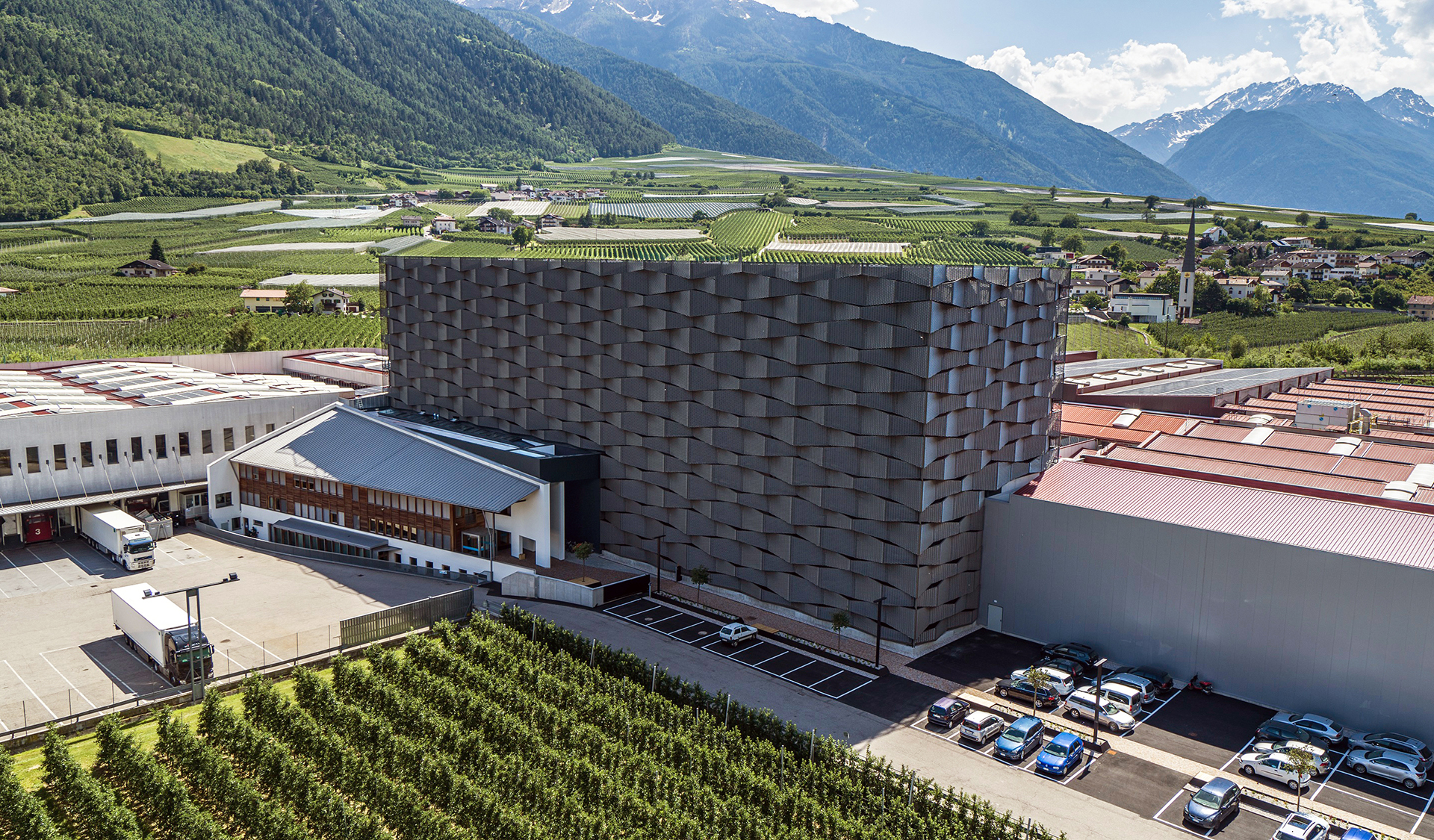 The innovative organic packhouse in Val Venosta, one of Europe's most modern plants.
Innovative packhouse for organic apples
Besides production, VIP also scores with technological competence in the processing and marketing of organic apples, as all organic apples are processed in the innovative organic packhouse at Juval, one of Europe's most modern plants. This packhouse is designed for the sorting, storage, packaging and delivery of organic apples only. Thanks to these separate cycles there is no risk of contamination and it is thus possible to maintain product safety. The packhouse's high-bay warehouse with a storage capacity of 18,000 bins works according to the FIFO principle and enables a professional, high-quality apple management. Very modern lines guarantee a gentle, flexible and fast processing of organic apples with a sorting capacity of 60 bins of 300 kg per hour and a packaging capacity of 28 tons per hour. This results in enormous advantages for VIP and its business clients in terms of flexibility and processing capacity, as highest quality, sustainability in the processing process and excellent customer service are guaranteed.