Innehållet nedan modereras inte i förväg och omfattas därmed inte av webbplatsens utgivningsbevis.
CALDAN P&F420 - Power & Free Overhead Conveyor
Tillbaka till företagsprofilen.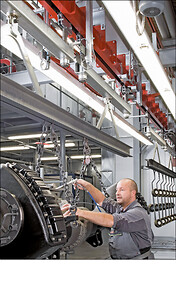 The flexible P&F system with load capacity up to 10.000 kg. Simple and reliable accumulation of wagons in in line, 45° and in 90° buffer zones.
Minimum accumulation distance - 400 mm. Smooth trolley transfer from one conveyor circuit to another minimizes the use of transfer units, thus lowering systems costs.
Unique trolley- and accumulation stop design ensures an instant and a highly reliable separation of wagons in the accumulating zones.
The use of modular components offers total flexibility and liberty in configuring the conveyor circuit layout.
Consequent use of tested quality components giving confidence in operation even in very harsh working environments. Noiseless accumulation by means of non friction disengagement of the trolleys from the conveyor chain drive.
Specifications:
The Power & Free conveyor type P&F420 consists of two Caldan straight profiles. In the upper "Power" profile a cardan chain is driven by one or more drive units. In the underlying "Free" profile the wagons are driven by power chain carriers, via pivotal pawls attached to the front and back of the trolley.
Both the chain carrier pitch and the accumulation distance is designed according to customer request.
The wagons can, according to handling requirement, be separated and accumulated either in line, or at 45° or 90° within accumulation zones. When routed into a closed accumulation stop, or when reaching the "tail" of the previous trolley, the trolley's accumulation lever is lifted and the pawl units are lowered. Hereby the trolley is disengaged from the chain carriers.
Conveyance with loads in up to 45° rise and fall sections - depending on the load - is possible due to a uniquely constructed link between the chain carriers and the trolley pawls.


P&F420
Fakta om CALDAN Conveyor A/S
Adress
CALDAN Conveyor A/S
Røddikvej 91
8464 Galten
Region
Danmark
Midtjylland
Skanderborg Kommune
Telefon: +45 86947071
Fax: +45 86947026
VAT nummer: DK14264132
P nummer: 1000710534
Anställda: 140