Innehållet nedan modereras inte i förväg och omfattas därmed inte av webbplatsens utgivningsbevis.
CALDAN P&F140, Power & Free Floor Conveyor
Tillbaka till företagsprofilen.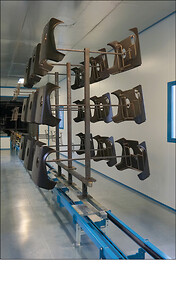 The new P&F140 is the next generation of highly reliable heavy duty power & free floor conveyors, designed for meeting the customers demand for handling even larger, heavier and unbalanced jigs.
The high accuracy in guiding is obtained by the 4 horizontal guide bearings, and the fully adjustable "Free" track. Requires minimum level of control system compared to traditional skid systems or roller conveyors due to limited use of drive units and sensors.
Further system advantages:
• high reliability due to the use of well-proven standard components
• very low maintenance - less moving sensible parts require less attention
• full flexibility in designing stage as the system offers the advantages of traditional power & free system such as: switching gates, line-to-line switch, accumulation zones, powered hoists etc.
• compact profile design minimizes restriction in airflow in spray booths, flash offs and ovens. Simplifies the over-all plant design
• unique "goose neck" design to prevent power wash fluids entering the conveyor system
• compact design minimises overspray dust settling on the conveyor. The dust is not carried through the full system - a lower level of cleaning is therefore required.
Specifications:
The Power & Free floor conveyor, Type P&F140, consists of three Caldan profiles. In the lower "Power" profile the cardan chain is driven by one or more drive units. In the upper "Free" profiles the purpose designed trolley and wagon sets are driven by power chain carriers.
Each trolley and wagon set can be separated from the power chain and accumulated in line, 45° or 90° zones. When reaching a closed accumulation stop or when reaching the tail of the previous trolley, the accumulation lever is lowered and the trolley pawl units are lifted.


P&F140
Fakta om CALDAN Conveyor A/S
Adress
CALDAN Conveyor A/S
Røddikvej 91
8464 Galten
Region
Danmark
Midtjylland
Skanderborg Kommune
Telefon: +45 86947071
Fax: +45 86947026
VAT nummer: DK14264132
P nummer: 1000710534
Anställda: 140